How time flies… It seem yesterday when we started this subject but well we have to quip in mind that all the things we have learn we will put into practice by using the materials and websites we have created and we have visited during this term. For my last post I would like to talk about the last big group session we have.
First of all we created new characters, creatures that are related to us and have some of our characteristics, or maybe not, maybe it's our antagonist but all of them have something special that have been created starting from our imagination and they have a little bit of magic on them. After creating this magic, malicious, benevolent, hero we have mixed it with all the characters created by our mates; then we made groups of 5 – 6 people and then we picked again other characters different to the ones that we have created, so we have new ones.
Later on we will have to create and develop a story with those characters to create a poster for our new movie and then sell it to someone who will be interested on bringing our story to the big screen. We will see the results this week…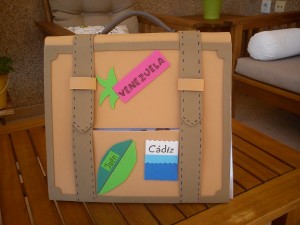 As a result of this activity, I was thinking on different ways to translate this to our future classrooms
and which has first come to my mind is "the traveller book" I'm sure most of you know what is this but for the ones who don't know it… Is a book in which the students create their own story we can begin it in white or we can give them the beginning of the story, after that one of our pupils is going to take the book to its house to continue the story with the help of his parents. The main aim is that the students create a new page for the common story but taking into account what was written first to give the story the sense it has to have.
This could be another way to make our students create their own story and being creative and motivate moreover the attendant of the book could read the new part of the story on Mondays and the rest of the class could draw a picture based on its mates part of the story and then select one of the pictures from all and paste it in the book to make it funnier.
Could you imagine other activities like this to create collaborative and cooperative stories or books? I would be pleased of reading your comments and thanks for your attention.