Finally here we are… the last entry. For this post I would like to talk about the activity in which I have reached the highest point of the subject: The Aladdin´s workshop. During this activity I had the possibility of experiment with children what I learned during the subject. It was incredible discover how times runs out, or saw the emotion on the children´s faces.
This project consisted on the creation of a twenty minutes workshop focus on one topic and with a special context, the story of Aladdin.
Firstly I am going to talk about the preparation of these kind projects. I have to said that although prepare activities for twenty minutes look very easy, we have to take into account that this activities should be significant. It means, for me it has not sense prepare activities just for spend time. Significant learning should be included. Furthermore we wanted to include the use of ICTs and it gave an extra difficulty to the preparation. The reason was that we had to take into account the level of the students and the possibility of have technical problems, such as internet problems. In addition, this preparation also included the creation of a catchy environment. For me it was the hardest and the funniest part of the project. The hardest because we created a "jaima" in the class and we had to bring a lot of very heavy material such as carpets. The funnies because, although we spent a lot of time, we enjoyed a lot the process.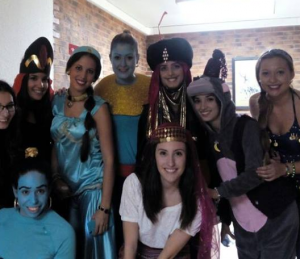 Moreover the day of the workshop was very different of what I though. Improvisation is the best word to define my feelings of this day. For example, during the first performance we ran a lot to achieve the time, but suddenly we discovered that we had ten minutes more. In this time we started to include new element such a choreography that we have prepared for be done just by us. Also in other performances the time was shorter, and we had to delete some activities from our plans.
But finally the results were unbeatable. I am really proud of what we did, and also I think that I learned a lot from this experience. Now I fell that I am more prepare for the management of student, for the inclusion of literature elements in the workshops, for the control of the time of the activities and my self-confident with students has grown since this moment.
In conclusion I fell satisfied. And as this is probably my last post I will like to say good bye and mention that it was a pleasure shared my posts with all of you.