Poems are always for children boring and in some cases difficult because sometimes they have to create or write poems.
Teachers have the responsibility to avoid this so we can work with types of poems.
There are different types of poems that we can use in class for work poetry in a different way and children will have the opportunity to enjoy working with poems.
In this post, I want to show you some examples of poems to work with them in English and activities for motivate children and make easier for them:
This is a type of poetry where the first letter of each line form a word. This type is easy for children when they have to create a poem because they think a Word and then Little by Little they form their poem writing things related with the word. An example:
Crisp and colorful
Adorable and crunchy
Nice and tasty
Delicious and tempting
Yummy and best
Autobiographical :
This is an easy way of write poems for children because they have to introduce themselves and write about their likes, hobbies or feelings . An example :
I'm a Jilly Joe
I love to sail and row
I love flying kites
only to end up with fights
My friends hate me
For I'm a wannabe
I love myself
For I'm Jilly Joe
Color poems
In this type, children have to think in a color and write objects or characters of the color.
White is the milk
As tasty as could be.
White are the clouds
Like cotton balls in the sky.
So is the light white
That brightens my day
Calligram
This is one of the most motivating and easy type of poems for children. They have to draw something and write things about the drawings in order to make the form of the drawing. For children is easy because they only have to write simple words. This is perfect to work a specific topic in English and learn new vocabulary for children.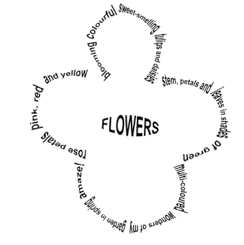 With this types of poems you will have the opportunity to work with poem and with English structures or vocabulary at the same time and for children these activities are motivating and they enjoy working in class.
You can think about specific activities to do with each poem and make challenges for children so be creative in your class!!!